The Artwork
Placing the Artwork
The project's goal is the creation/installation of a contemporary artwork at the 'gateway' to Bedford Park expressing/celebrating the synergies between WB Yeats's developing genius & Bedford Park's progressive/experimental community, with its social & cultural networks & its role as a 19c artistic & literary hub.
Following discussions/consultations locally the artwork will ideally be situated so as to be:
visible from the roadways & the pavements gray the young poet walked to school & later to literary friends' houses including those of actor Florence Farr, poet John Todhunter, editor WE Henley & author, political activist & Arts&Crafts exponent Wm Morris
by St. Michael & All Angels Church where the family worshipped (Yeats's grandfather & great-grandfather were both Anglican clergymen) & a cultural & community focal point
en route from Turnham Green District Line Station which the Yeatses used to travel in & out of central London for poetry, art, theatre, discussions & debates
within a short distance of No.8 Woodstock Road where the family lived from 1879
en route to No.3 Blenheim Rd where they lived from 1888, where Yeats wrote The Lake Isle of Innisfree & where the Irish Literary Society was founded (still a major literary organisation in London's cultural life)
within sight of the former Bedford Park Club building on The Avenue, where Yeats's father debated the issues of the day with Bedford Park neighbours, where WB attended lectures, & where local amateur dramatics inspired Yeats's own symbolist drama, leading to the world-renowned Abbey Theatre & the Celtic Revival (The building has found a new life since 1994 as the London Buddhist Vihara)
close to Bedford Park's Arts&Crafts pub, The Tabard, named for the inn in Chaucer's Canterbury Tales & to the site of the former Bedford Park Community Stores & Bedford Park School of Art & Craft attended by WB's brother Jack & sisters Elizabeth & Susan; the Art School's location now houses performing arts school, ArtsEd
& facing Acton Green, the local 'village green' where the Yeatses enjoyed fairs & circuses & from which John Butler Yeats's fellow painters painted views of this unusual garden suburb.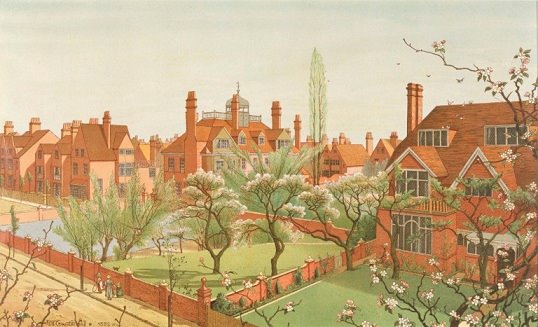 Commissioning
The Artwork Project committee members, all local residents, have visited a number of public sculptures/works-of-art in situ & in sculpture parks (in Britain, Ireland & the US), consulting with local opinion, cultural & community organisations, advisors, architects, planning consultants & art critics, & have asked selected artists to respond to the project's aims in terms of Yeats's life & writings, & to Bedford Park's unique place in the history of art & ideas.
The relationship between design & exact location is central both to the project & to artistic creativity/vision, so discussions now involve architects, property owner(s), planning & heritage consultants, & planning departments, as well as creative artists.
Watch this space for news of progress…